MRI (Magnetic Resonance Imaging)
---
Magnetic resonance imaging (MRI) is a diagnostic tool that uses radio frequencies, magnetic fields, and computers to produce cross-sectional images of the soft tissues in the body. The images produced by the exam can be used to aid in the diagnosis of medical conditions. The MRI scan does not use ionizing radiation to produce these images.
It is important that you inform the clinic if you have any surgical implants or embedded metal fragments when you book your MRI appointment. As MRIs use electromagnetic fields to produce images, the presence of items such as surgical implants, metal fragments, and metal piercings can be a safety concern to not just you but to the technologist as well.
We ask that you inform your technologist if you have any surgical implants before your exam so we can help determine whether or not these items are magnetic. Surgical implants typically have identification numbers that can be used to check their compatibility for MRI tests.
Edmonton's Most Advanced GE Scanners
Insight Medical Imaging houses two different state-of-the-art magnetic resonance (MR) scanners at our Meadowlark Diagnostic Imaging clinic in West Edmonton. We are one of few unique providers in Western Canada, including hospitals and private facilities, to offer both 1.5T and 3T MRI machines.
Book Your Magnetic Resonance Imaging Exam
Magnetic resonance imaging, or MRI, captured by our MR scanners is reviewed by our on-site Royal College Certified radiologists. These are the same radiologists trusted to provide emergency on-call readings for facilities like the Misericordia Community Hospital. MRIs can be used for general health purposes, including whole body scans. They can even be used to test for breast or brain cancer, in addition to other diseases.
As soon as your MRI exam or test is completed, our radiologists evaluate the images from the scan and perform a detailed test analysis. Their findings are transcribed, and a report is sent to your doctor promptly, usually within one business day. Your doctor will review the report, form a conclusion, and, if necessary, create an actionable treatment plan.
Should your doctor have any questions or concerns about the report, we encourage them to reach out to our radiologists directly. Our team's objective is to work with your doctor in the pursuit of your improved health, wellness, and disease awareness.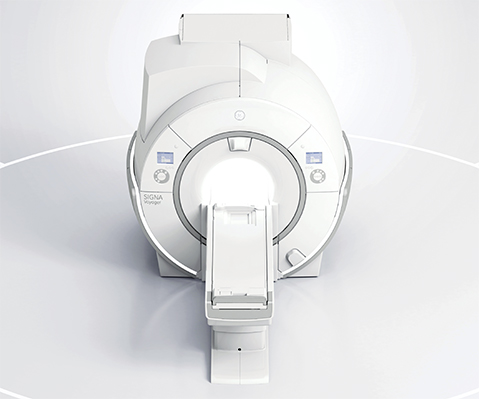 1.5T SIGNA Voyager
The new standard of MR is extraordinary. Our 1.5T SIGNA Voyager produces consistently sharper images with higher signal-to-noise ratio and superior uniformity thanks to total digital imaging. Additionally, patients can now experience a new standard of comfort thanks to advanced applications from the SIGNA Works platform.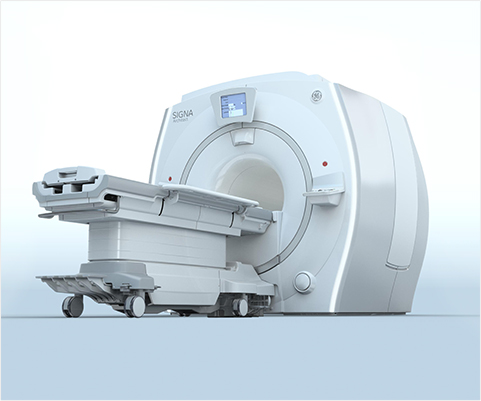 3T SIGNA Architect
Designated as "the future of MR" by GE Healthcare, our 3T SIGNA Architect is a revolutionary imaging solution that combines groundbreaking advancements in MR technology with GE Healthcare's intuitive engineering.
Our 3T scanner offers faster scan times, a more comfortable patient experience, exceptional homogeneity, and unparalleled consistency leading to increased reliability.
Discover Our Most Advanced MRI Scanner Ever
Learn why GE Healthcare's 3T SIGNA Architect is the clear choice for your healthcare journey.
What to Expect During Your Medical Imaging Exam
Before your MRI exam, one of our MRI technologists will ask you to complete a safety questionnaire to determine whether it is safe to proceed. This will include asking about your surgical history and any injuries involving metal, such as having metal fragments removed from your eyes.
You will then be provided with a gown or scrubs to change into before your exam. A locker will also be given to secure your belongings.
Ear protection will also be provided when you enter the examination room to dampen the noise produced by the machine during the MRI exam.
Depending on the area of interest, our technologists will guide you into the best position on the MRI table. An additional piece of magnetic resonance imaging equipment, called a "coil", will also be placed around, over, or under the region of interest.
The MRI table will then be moved to position the body region being examined in the middle of the MRI machine. The magnetic resonance imaging technologist will monitor you at all times during the MRI exam. You will also be provided with an emergency button so you can communicate with the technologist at any time during the MRI scan.
We ask that you remain as still as possible during your magnetic resonance imaging exam as it will cause the images to come out blurry. MRI exams generally, depending on the body part being examined, last between 30 to 60 minutes.
In some cases, an intravenous injection of a contrast dye is administered to aid in the diagnosis. The need for contrast is determined by the radiologist. This contrast is injected into the arm and may cause a cooling sensation.
After the MRI exam is complete, the images are analyzed by one of our radiologists, who will send a report to your doctor immediately upon completion.
Important Notes
You must provide your complete surgical history, and information on any injuries involving metal, when booking an MRI appointment
If you are claustrophobic, please consult with your doctor to see if they would recommend taking anti-anxiety medication before your examination
Note that MRI exams performed outside of the hospital are a private service and the cost is not reimbursed by Alberta Health Services
Recent studies have shown that some clothing items may contain trace elements that heat up when exposed to magnetic resonance. These items can include underwear with sweat-wicking material (silver nitrate) or socks with odour absorbing material (copper). To prevent burns, we may ask you to remove your underwear or socks during the exam. Please note that you will still be provided with scrubs or a gown so you are fully covered
For more information on how to prepare for your MRI exam, please visit our exam preparation page.
Claustrophobia Risks & Resources
Both machines utilized by our Insight Medical Imaging staff have 70cm bore diameters (the space where the patient is scanned), which are 4 inches (10cm) wider than standard industry scanners. Additionally, our 3T SIGNA Architect has an eXpress dockable table— allowing our patients a quick and easy exit out of the scanner should they start to feel uncomfortable.
If you are still experiencing any anxiety about your future scan, we recommend speaking to your doctor to obtain a mild sedative before coming into your appointment. This will help you relax during the medical imaging process and ensure all imaging can be done as smoothly as possible.
We also encourage patients to try implementing some of the University of Virginia's ten coping strategies or techniques for reducing claustrophobia during your MRI exam.
At Insight, we want to ensure that all of our patients have the best possible imaging experience. That is why we also offer our patients a customized music experience during their study to further help them relax.
How Much Does an MRI Cost?
The cost for an MRI typically ranges from $600 to $1200, but this price may vary if additional sequences or contrast is needed to provide a complete exam. Our exam prices are very competitive and we make every effort to provide you with an accurate cost estimate. Please note that this price may also be subject to change without notice.
While community-based services such as private MRI are not covered by Alberta Health Care, certain insurance or employer benefit plans with a health spending account may cover either a large portion or possibly the entire imaging scan cost.
For more information, please speak to our Central Booking department at 780-669-2222.
To submit your requisition form in advance, click here!
Prices subject to change at any time without notice.
*Discount applies to lower priced procedure. Exclusions apply.
780-489-8430
200 Meadowlark Shopping CTR NW
Edmonton, AB T5R 5W9
Planning your next appointment? Learn more about exam preparation and get directions to our MRI clinic.
Recent News & Daily Insights